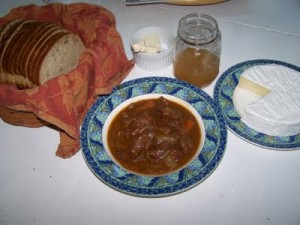 Beef stew, rye bread with butter, non-alcoholic mead, and soft cheese.

No feast has been more highly anticipated in our home than the Viking Feast. My husband can trace his Norwegian heritage all the way back to Harald Hardrade, the Norwegian King who was killed in 1066 in the Battle of Stamford Bridge….and beyond. My sons take great pride in their Viking blood.
My mother-in-law makes a pilgrimage to Wisconsin every year to eat Lutefisk. In olden-times, Norwegians ate a fish that was so hard and bony, they had to use Lye to soften it. I'm not sure how they make it now, but everyone says it is an acquired taste (i.e. it tastes horrible). Needless to say, we didn't have that on the menu.
We do eat Lefse every Christmas, which is a tortilla-like Norwegian flat bread spread with butter and brown sugar. I didn't have that on hand for this feast, and I doubt it was around in Viking times anyway.
We did not have costumes for this feast, either. Sorry! The white sheets used in our Egyptian Feast, Greek Feast and Roman Feast could not be adapted for the purpose, and we didn't have time to pull anything else together.

My Vikings enjoyed this feast. We used or Hnefetafl Board as a centerpiece.

Want to know what we did have? Keep reading for the menu and recipes. I relied heavily on The Viking Answer Lady and on a PDF file from Tjurslakter titled Viking and Anglo-Saxon Recipes for my information about what people ate during Viking Times, as well as for some of these recipes.
We learned that Vikings typically only ate twice a day, morning and evening, and their fare was simple.

The Menu:
non-alcoholic, homemade Mead
Rye bread with salted butter
soft cheese
Stewed beef
Norwegian pancake with berry sauce
Stewed fruits with yogurt
The children wanted to taste Mead, so I searched the internet for a non-alcoholic version. I found a few. Here's the recipe I used, taken from the Group Recipes site:
Soft Mead
4 cups water
1 cup honey
1/2 tsp. nutmeg
1/2 tsp. ginger
1/4 tsp. cinnamon
1 lemon
The instructions said to boil this but I was in a rush, so I did it in the microwave. It turned out fine. I put the water, honey and spices into a dish and heated it until it boiled. Stir in the honey until it dissolves, and squeeze the lemon into it. The instructions I found said you can also use orange slices, and that the drink should be cooled and strained. We did not strain it, and we drank it warm. It was yummy!
Easier Mead alternatives
Another recipe that sounds even simpler called for 2 parts apple juice, 4 parts honey and 6 parts water. Mix in a pan, bring to a boil and let simmer for half an hour, then cool and strain.
Research indicated that the Vikings also drank herbal concoctions. Chamomile or Rose hip tea might be a good choice.
Stewed Beef
For the stewed beef, I simply put chunks of stew meat into my crock pot, along with some root vegetables and onions. My kids like carrots, but turnips or parsnips would also do. I added a bit of water and a couple packages of stew flavoring, and set it on low for several hours.

Viking fun without the fuss!
I know it would have been more authentic in a giant kettle over the fire, but I try to keep most of our "feasts" something that is reasonably done on a regular school night, in the same time I might normally spend making dinner. The main point to keep in mind about Viking stew is that they did not have potatoes or tomatoes, so your stew shouldn't have them either!
We purchased the rye bread and cheese. We used Brie, as our whole family loves it. We learned during our studies that the Vikings conquered quite a bit of territory, including part of France, so we felt fine about our choice.
I had told my husband to get Brie at the store, but the children wanted to buy Jarlsberg, which is a Norwegian cheese. Hubby bought the Brie anyway, certain that he should get "whatever mom wants"!
When they got home and told me about their shopping trip, I knew that the kids were right. To be more authentic, we should have had Jarlsberg. Those boys certainly do know their cheeses!

Dessert: Norwegian Pancake with Berries, and Summer Fruit, Honey and Hazelnut crumble with yogurt
Pancake with Berries (this recipe came from The Viking Answer Lady and is for four servings).
2/3 cup white flour
1/2 cup whole wheat flour
1/2 tsp. salt
2 1/2 cups milk
2 tablespoons butter
1 cup lingonberries (we used raspberries)
Turn the oven to 425F. Whisk the batter together without the butter and stir in the berries. Melt the butter in a heat resistant baking pan or oven proof skillet, and pour in the batter. Bake in the middle of the oven for about 25 minutes or until the pancake has a nice color. Cut into pieces and serve with jam.
I doubled this recipe, and there was a lot left over. It took 45 minutes for the larger pancake to set. I didn't think the kids would like it, as you could clearly taste the whole wheat flour, and there was no sugar in the recipe. I melted the jam in the microwave so it would pour onto the pancake like syrup. The kids loved it, though. So did my husband! Everyone wanted the leftovers the next day, and asked if I would make it again in the future.
Vikings in Anglo-Saxon Britain: Summer Fruit, Honey and Hazelnut Crumble Recipe from Viking and Anglo-Saxon recipes.
2 pounds mixed soft summer fruits (raspberries, lingonberries, strawberries, currants, cherries or similar)
honey or brown sugar (to taste)
3 oz. toasted hazelnuts
3 oz. whole wheat brown breadcrumbs
Put the fruits in a pan or in a microwave dish with about 1″ watr in the bottom. Cook gently for 10 to 15 minutes (microwave for 4 to 6 minutes on high), or until the fruits are soft without being totally mushy. Sweeten to taste with the honey or brown sugar.
Drain off the extra juice and save it to serve with the pudding. Chop the hazelnuts in a food processor, then mix them with the breadcrumbs. Pour the fruit into an over-safe dish and cover it with a thick layer of the nut mixture. Bake at 350F for 30 minutes or until top is lightly browned. Serve with cream or plain yogurt and the warmed fruit juices.
We enjoyed this. I serve plain yogurt very often, flavored with a bit of brown sugar or honey and some fresh fruit, so this was not too unusual for us. I liked the way it tasted with the warm fruit. The kids enjoy it more without the nuts and crumbs.