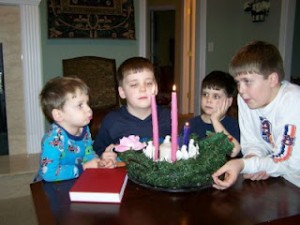 We enjoy using an Advent Wreath during our Christmas season devotions.
The advent wreath is somewhat similar to the Advent calendar, in that it marks the passage of time, from the first Sunday in the season until Christmas day. We light the Advent candles before beginning devotions. The children love the flickering candles and it serves to call everyone together for the start of devotions.
Each Sunday in advent a new candle is lit. As each week passes, the previous week's candles are lit along with the new candle, until on Christmas day, all 5 candles burn brightly as a reminder that Christ's light has come into the world. As the weeks pass, our expectation and anticipation grows until on Christmas day all the candles are lit and we rejoice. "Joy to the World, the Lord is come! Let earth receive her King!"

Cal blowing out the advent candles last year. As you can see, I had two pink candles instead of one. I couldn't find enough purple candles, so I used what I had on hand. I am not legalistic about using the traditional pink and purple candles. If I can't find them, I do my best and don't stress over the rest!