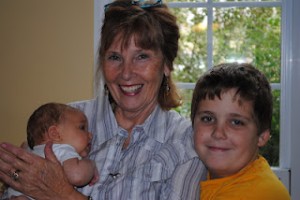 This year we studied 20th Century history.  Our favorite project of the year was definitely our Grandparent Project.  I had done something similar when I was in 8th grade.  I remember interviewing my grandmother and some of her friends about their memories of significant events which had happened during their lifetime.  It was a very special memory and a fascinating project that I still remember to this day.
We decided to do something similar this year.  Our kids video taped their grandparents answering a series of questions about their childhood, adolescence and adult lives, as well as questions about various events which we studied this year.  Where was Grandma when Martin Luther King, Jr. was shot?  What games did she play in the 1950's?  What technological advancements and inventions came about during Grandpa's lifetime?  These and other fascinating questions were asked and answered during the interviews.  We learned a lot more about the grandparents, as well as about modern history, and preserved these special interviews on video for future generations.
I know two other families who have done a similar project focusing on war veterans in their community.  Warning: this type of project can become addictive!
Here is a description of the project, as well as a list of interview questions to get you started.