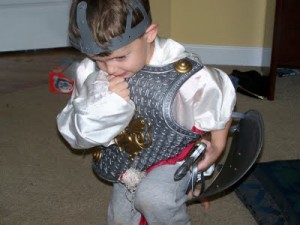 My boys love costumes.  They dress up all the time!  My youngest one practically lives in costumes 7 days a week.
The day after Halloween many shops will mark costumes down as much as 75%! You can often find great deals.  Last year after Halloween I picked up several inexpensive costumes for Christmas gifts.  If you'll need costumes to go along with something you are studying this year (cowboys, kings and queens, knights….) this is the time to pick them up!
I also bought some Gingerbread "castles" last year…they were meant to be haunted houses or something, but we used them to make medieval gingerbread castles when we were studying the Middle Ages. Just don't use the orange and black frosting…make your own.