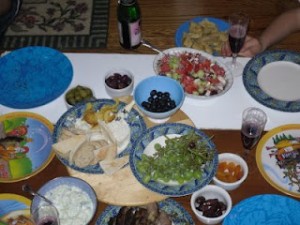 We had our Ancient Greek Feast this weekend! Here is our menu and the recipes we used.
Menu:
*Dried apricots and dates
*Olives (Kalamata, black and green olives)
*Green and red grapes
*Cheese tray with herbed goat cheese, Greek Feta cheese, Pita bread slices, and toast-crackers
*Marinated, grilled leg of lamb with Tzatziki sauce
*Greek salad
*Baklava
*Sparkling Red Grape Juice
Shopping Instructions:
Many grocery stores do not sell lamb. I initially planned to do Lamb Chops, but they cost $22 a pound here! So I quickly decided a leg of lamb was a more economical choice. I found this frozen at a specialty butcher. Publix also had several cuts of lamb available. The cheeses were found in the deli section of my normal grocery store.


The dried fruit, grapes, olives, cheeses, bread and crackers required no preparation. Just plate and serve.


Recipes:
This feast was delicious and we all thoroughly enjoyed it! It isn't hard to make this food, but several of the dishes need some advanced preparation. I would recommend reading instructions for all the recipes before you begin, so that you know which steps need to be done in advance. For example, you'll want to make the lamb marinade in advance so that the lamb has time to soak up the flavors. While the lamb sits in the marinade you can move on to the Tzatziki sauce, which also has a few steps.


Here are the recipes for our Ancient Greek Feast. Enjoy!
I found this recipe on Epicurious.
Marinated Grilled Leg of Lamb
6 lb. boneless leg of lamb
1/2 cup extra-virgin olive oil
1/4 cup lemon juice, preferably fresh
1 1/2 tsp. salt
1 tsp. pepper
4 cloves garlic, minced
1 Tbsp. dried oregano
Mix everything together. Pour into a ziploc bag and marinate the lamb for at least an hour or up to 8 hours in the refrigerator. Allow the lamb to sit in the marinade at room temperature for about an hour before grilling. I followed the grilling instructions found here. We have never made lamb at home before, but it turned out fantastic!

Tzatziki sauce
We love this sauce, typically served on Gyros. We ate it with the lamb tonight. Yummy! I found this recipe on the internet, as well.
Ingredients:
* 1 (8 ounce) container plain yogurt (Preferably Greek yogurt or Fage)
* 1 cucumber, peeled and grated
* 1 tablespoon olive oil
* 1/4 lemon, juiced and zest
* 1-1/2 teaspoons chopped fresh dill
* 1-1/2 cloves garlic, peeled
* 5 Mint Leaves, chopped fine
* Salt and Pepper to taste
There are two initial steps which MUST be done before making the Tzatziki sauce. First, if you don't have the Greek yogurt, you'll need to drain the extra water out. Lay a piece of cheesecloth inside a colander (or use a very fine strainer). Pour the yogurt in and allow it to sit in the strainer (over a bowl or in the sink) for at least an hour so that the extra water drains out. If you have time, and can allow it to drain over a bowl in the refrigerator overnight, that is even better.


*I love Greek style yogurt, and use this method frequently.
Second, the cucumber will also have to be drained. Peel it, and then grate it with a box grater or in a food processor with a grater blade. Scoop up the grated cucumber and place it in some cheesecloth. Squeeze out as much juice as you can and discard the juice. Without these two important steps, your Tzatziki sauce will be really soupy.


You can see in this photo how much juice I was able to squeeze from one cucumber!
Once the yogurt is the right consistency and the cucumber has been squeezed out, combine all ingredients (listed above) in a large bowl, stirring gently to combine. Enjoy!
Authentic Greek Salad
Ingredients:
2 large cucumbers
4 large tomatoes
1/2 large red onion
12 kalamata olives
1/4 to 1/2 cup crumbled feta cheese
extra virgin olive oil, salt, pepper and red wine vinegar for the dressing
Peel, seed and dice 2 large cucumbers and place in a large bowl. Chop the tomatoes and thinly slice the red onion. Add to the cucumber and stir to combine. Slice the olives and crumble the feta cheese into the salad. Drizzle with the extra virgin olive oil and the red wine vinegar and sprinkle with salt and pepper to taste. Toss to combine.
Baklava
This is an authentic Greek treat, but my recipe is actually from Iraq. This recipe was shared with us by dear friends and it is, truly, the best Baklava EVER! The cardamon is the secret and necessary ingredient. It is expensive, so I normally only make these decadent treats at Christmastime.
1 package Fillo dough, (usually in the frozen fruit section at the grocery store)
9 oz. walnuts, ground
3/4 cup sugar
2 tsp. cardamon
2 sticks butter
1/2 bottle clear Karo corn syrup
Filling:
Freshness is key in this simple cookie. I prefer to buy whole walnuts and grind them in my food processor, and to get fresh cardamon, if possible.
Combine the ground walnuts, sugar and cardamon and set aside.
Thaw Fillo dough for 8 hours in the refrigerator and 4 hours at room temperature if you can. This makes it easier to work with. If you don't have time, I have used the dough after it has set at room temperature for just 30 minutes. It tends to break more easily, but that doesn't really matter with this dough.
Lay out half a package of Fillo dough, layer by layer, into an 18 x 14 cookie sheet. This dough is very forgiving, so it does not matter if it rips or tears. Just place the sheets into the pan, one at a time. It doesn't matter if a sheet is ripped into 3 or 4 pieces, just lay it out onto the pan. What DOES matter is that you place the layers one sheet at a time, not all in a stack. Don't allow the dough to overlap the edge of the pan. Fold edges in if you need to.


Pour the filling over this crust layer, spreading with a spoon so that it entirely covers the Fillo dough.


Place the other half package of Fillo dough over the top of this filling, working with it in the same way as you did before.
Melt the two sticks of butter and pour them evenly over the top of the baklava. Pull some of the fillo away from the sides of the pan so that butter can get down between the dough and the pan on all sides. Use a spoon or your fingers, if you need to, to ensure that all the dough is covered evenly with melted butter.

Take a sharp knife and cut the baklava into diamond shaped cookies. To make a diamond shape, bring the knife straight down in rows from left to right across the pan. Then cut in a diagonal pattern to reveal the diamond shaped cookies. This recipe makes around 50 cookies. They are rich, so don't make them too big.
Bake at 350 for 25 to 40 minutes, or until the top is golden brown.
Allow to cool. Re-cut the diamonds.
Drizzle with the half bottle of Karo clear corn syrup and serve. These treats are best fresh. They will taste their very best the day they are made and good for a couple more days after. Over time, they begin to dry out and do not taste nearly as yummy, so these should ideally be made the day of your feast.