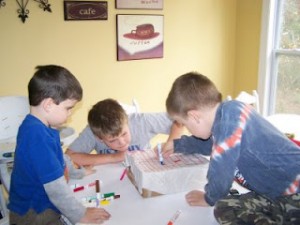 Renae at Life Nurturing Education inspired me this week with her post Reason #127 to Homeschool. Renae loves discovering wonderful books with her children. That sure ranks high on my list of "Reasons I love to homeschool!"
Here's another reason why I like homeschooling…
We can do it at the kitchen table….

In a cozy nook…

Outside on a beautiful day…

On the couch…

On a field trip…

Seated at the computer….

…and even on the front porch…


Never having to sit in a desk? Priceless.
If you are inspired, write a post of your own and send me the link! What is one of your favorite things about Homeschooling?