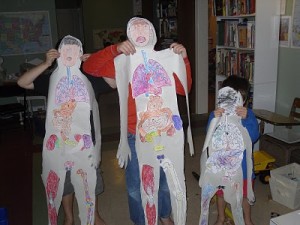 To enhance our study of the human body last year we used an excellent, inexpensive resource from Teacher Created Materials.  My Body is a book of reproducibles representing each of a child's body parts.  You can also see the full table of contents and a product sample at the above link.
Before beginning the book, kids lay down on butcher paper and have their body traced and cut out.  Then throughout the semester the child learns a few things about a particular body part, and then colors in and cuts out the body part.  Each body part is fastened to the child's paper body.
In the end, they have a life size cut out of themselves with all their body parts attached.  Of course, the boys couldn't resist getting a little bit creative with their body drawings!
I first used this book when my 14 year old was in Kindergarten and he loved it.  In fact, we still have "his body" in storage and it was fun to pull it out as the other boys were working on their bodies last year.  This activity was a hit with all of them.  It could be a stand alone science activity for a preschooler or kindergartner, or part of another science program for an older child.  We did not go in the order that the My Body book suggests, but instead we tied this in to the lessons we were doing in God's Design for the Human Body.