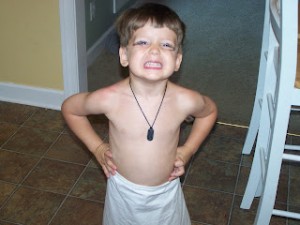 We held our Egyptian Feast tonight to celebrate the end of our first week back to school. It was so fun! And easy! I was able to get everything I needed this afternoon, and I spent less than 3 hours total preparing the food, costumes and games. The memories will last a lifetime.
My first stop today was Goodwill, to buy some white sheets that we could use for costumes. On the way in, I quickly asked the Lord to help me find something I could use for playing pieces for the games I wanted to do tonight. I needed 20 pieces and had no idea what I would find. I was thinking maybe checkers or something.
Why is it I am still surprised by His extravagance? Right there, in the front window, was this game, "Escape the Mad Mummy". Guess how many Egyptian-themed tokens were inside the box??? Twenty. It even came with a big pyramid.


Next, I went to Walmart to get the food for the feast. I found everything I needed, even fig jam! The shopping was the hardest part of throwing this feast together, and I've already told you how easily that was done!
When I got home, I printed out some recipes (see bottom of this post) and got started on the feast. We had a tray of fruits and vegetables (grapes, raisins, chopped dates, lettuce, cucumbers and radishes), a bowl of sliced melon, "Ancient Egyptian" marinated chicken, and carmelized leeks. I also served sliced bread, a staple of the Egyptian diet, along with a choice of spreads (hummus, honey and fig jam, all store-bought). For dessert, I made Egyptian Tiger Sweets. It seems that the Egyptians didn't eat a lot of meat, but poultry was available and my husband and four sons are not willing to eat vegetarian, even for one meal, so I threw that in to appease them.
This was a great summer meal, with very little cooking. The leeks took less than 20 minutes to prepare on the stove, and the chicken was grilled. Other than that, the only prep work was slicing fruit and bread! The kids were asked to taste everything, which they were willing to do. They didn't like the leeks, dates or radishes, but they made up for it in chicken, bread and fruit consumption. I knew I was right to make the chicken!


While the leeks were cooking I quickly made the costumes. It took less than 15minutes to make all six. Instructions are at the bottom of this post.
The boys wore kilts and I had a simple Egyptian-style dress. I wrapped the kilts around the boys' waists, tucking the loose end in at the waist. The little boys thought it was great fun when their kilts accidentally fell off, again and again and again, so I had to use safety pins to hold them together. The boys and my husband all wore their kilts, and no shirts or shoes. I had found some Egyptian necklaces in a gumball machine at Kroger last week, so we all had those, too. The look was complete when I applied some black eyeshadow with a damp brush above and below everyone's eyes.
While we were setting up the games, Cal slipped into my bathroom and got into the black eye makeup. He came out proudly, saying, "Look, mommy! Now I have Egyptian hands!"


After dinner, we played the Egyptian games. I had already printed a gameboard and the rules to play the ancient Egyptian game Senet. My kids have been enjoying an online version of the ancient Egyptian game Hounds and Jackals, and I wanted to find a way to make a board for that, too. I ended up printing out two additional Senet boards which I cut up and taped onto two pieces of cardstock to make a nice Hounds and Jackals board.


We all enjoyed playing the games, especially Colin. He has been wanting to learn Senet all week.  Here are some instructions for how to play Hounds and Jackals.  The board they are using looks more like a cribbage board, with pegs, but our homemade board worked fine with some modifications.  We didn't have the fancy dice, either, but regular dice can work fine, too…just modify the instructions to fit what you have!
I have read that Hounds and Jackals is similar to our American game of Snakes and Ladders.  If Hounds and Jackals seems too complicated, you could use a Snakes and Ladders board instead to play something a little more familiar to little ones and readily available.
This was really a fun evening. At bedtime, 3 year old Cal folded his kilt and put it on his dresser, "For the next time we play Egyptians!" I asked him what his favorite part was and he said, "I had two favorite parts. The games and the feast." Those were my favorite parts, too!
Recipes:
I found a list of common Egyptian foods in our curriculum. For recipes, I did a search online. I am not an expert in ancient Egyptian cuisine. If someone else said the recipe was "authentic", that was good enough for me.
Korrat (Leeks)
Ingredients
2 lbs. leeks
3 garlic cloves, crushed
1 Tbsp sugar
4 Tbsp vegetable oil or extra-virgin olive oil
lemon juice
salt
Wash the leeks carefully to remove any soil between the leaves. Trim the root ends and cut off the tough green part of the leaves. Slice the rest into 2 inch pieces.
Fry the garlic and sugar in hot oil for a moment, just until the sugar becomes slightly carmelized. Add the leeks and turn them, over low heat, until they become slightly colored. Sprinkle with lemon juice and salt. Pour on enough water to barely cover the leeks and stew them gently over low heat until they are tender and the liquid is reduced. This took about 15 minutes. Serve hot or cold.
Tiger Nut Sweets

Ingredients
I put about 1/2 cup of chopped dates in the food processor until they were ground. Then I added about 1/2 cup pecans (the recipe calls for walnuts, but I didn't have any). I added a splash of water, just so it would hold together. You can add cinnamon, but I did not. Shape the mixture into balls, coat in honey and roll in either ground almonds (I didn't have these either, so I used sesame seeds). Cal and I LOVED these, but the other boys and my husband all thought they were too sweet.
Ancient Egyptian Marinade
1/2 cup olive oil
2 tablespoons ground cumin
1 tablespoon ground coriander
1 onion, grated
3 cloves garlic, finely minced
1 teaspoon cayenne pepper
salt and freshly ground pepper to taste
Mix ingredients together and pour over chicken. The recipe says to cover and marinate in the refrigerator for at least 6 hours or up to overnight. I only marinated the chicken for about 30 minutes before grilling it and it tasted great!
Directions for Egyptian Costumes:
I had purchased 3 twin sized white sheets. I left one untouched, for my husband. That was easy! I folded the second sheet in half (top to bottom) and then in half again (side to side). I cut the sheet in half so that I had two pieces, both folded top to bottom.
I took one of them and cut along the fold, making two pieces, both 1/4 the size of the twin sheet. Those became the kilts for the littlest boys. Cal's was still too long, so I folded it in half to make a long, narrow strip. It was perfect!
I took the other half of that sheet and cut out a square in the middle of the fold for my head. I used Stitch Witchery, which is an iron-on product that requires no sewing, to close up the sides of my Egyptian dress, making sure to leave holes at the top for arms. I realized too late that my sheet was too sheer, so I ended up wearing a white skirt and t-shirt underneath.
I took the last sheet and cut it in half to make two larger kilts for the bigger boys. Voila! In less than 15 minutes we had 6 costumes, with no sewing. I think it will take very little to turn these awesome Egyptian costumes into Roman or Greek costumes later this year.