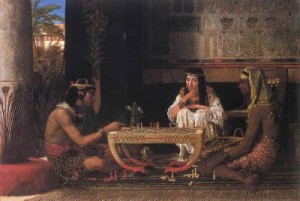 My children really enjoy it when I can find a great game online to supplement our history studies. Here are a few we like:


We learned how to play Senet when we studied Ancient Egypt. This online version looks somewhat realistic, so you may want to check it out, especially if you are thinking of making your own Senet game at home.  But it is a little confusing, so for online play, I prefer this version from the BBC, which teaches the rules of this ancient board game and lets you play against the computer.  You will need Shockwave to play the BBC version.
Egyptian Tomb is more involved than the previous game. Kids get clues to solve a mystery by answering questions, doing simple map work, deciphering hieroglyphs and other exercises. There is some teaching about Egyptian gods and beliefs on this site. This site requires some reading ability. It's not too hard as the answers to most questions are provided somewhere on the site. It's a fun way to reinforce what you may already be learning about Ancient Egypt.
Not exactly a game, but this Egyptian Calculator is interesting…
Check out BBC's kids game called Pyramid Challenge to see if you've got what it takes to be a pyramid builder.
They haven't played it yet, but I know my boys will enjoy this embalming game, which teaches about how mummies were made.  It's kind of gross, but pretty educational, and they aren't squeamish types…
My boys absolutely LOVE Civilization and other "builder" games.  Nile online is a similar concept, free to play, and requires no downloads (only registration).  They haven't played it yet, but I'll post an update here once they have a chance to rate it.
I found a few of the Egyptian games in this post through the site Ancient Egyptian Games.  They have so many!  Hoping to get some good apps for my iPod through them, too.
Last year when we studied the Mayans we played this online Mayan Ball game. It was also neat to watch this brief video re-enactment of a Mayan Ball game.
Jacobites the 1745 Rebellion begins with a very brief video, and poses the question, "Could you have done a better job if you were the leader of the Jacobites?" As kids read information and learn more about the people involved they are asked to make decisions. Some responses prompt video clips of battle re-enactments. Definitely click the "funky" button to view this in flash. It's much more interactive than the simple site.

Scottish Wars of Independence is an online board game. Kids spin and move around the board. Every square they land on opens up a fact file about this time period. Kids choose the 6 events they feel to be the most important and add them to a list. At the end of the game they find out whether they chose wisely or not.

Vikings in Scotland gives kids opportunities to answer questions to complete game tasks in "Build a longship" and "Build a longhouse". Some answers are provided on video clips (at least in the Flash site) for kids to watch after they answer. The more kids know, the faster their boat/longhouse is built. There is also another game on the site, where kids try and sail their longboat around a map, accomplishing various tasks along the way.
We really enjoy the viking board game Hnefetafl. This site provides English rules partway down the page, or click here to read the rules I wrote out (which may be easier to understand!) To play this game online, click on one of the boards displayed. Each one yields a slightly different variation of the game. Don't forget to click English on the board game page or you'll be playing in Danish.
BBC Schools has lots of games, including some games for Modern Times.
I like Scotland During the Second World War. My 2nd grader has played this and he enjoyed it. Kids pretend to be a spy, gathering information to help them progress through the game.
My kids have not played their WW1 game Trench Warfare yet, but I suspect they will like it. It does require quite a lot of reading, but you are able to choose which weapons you want to fight with and then see a cartoon video of the chosen weapon in action. Then you are briefed as to how well you did and why. This game doesn't teach much, other than the pros and cons of various battle tactics in WW1, but it will probably be a hit with boys.
I've heard great things about the BBC's Dance Mat Typing but my kids have not used this yet, either. Nevertheless, I wanted to try it out. And it's great! Seeing is believing. We will definitely be using this game.
For more great online games, check out the list of interactive history games offered for kids by the BBC.