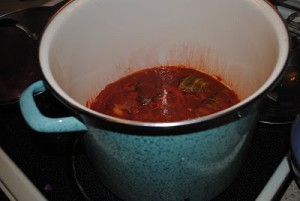 Cabbage rolls in tomato juice
My husband and I lived in Eastern Europe for several years when we were newly married.  Although we weren't huge fans of cabbage rolls at the time, I got a yen for them last week and decided we would have an Eastern European feast.
I didn't know that my hankering for purple sauerkraut and stuffed cabbage rolls was pregnancy-induced, but my husband recognized it as a tell-tale sign. You can read all about our exciting news on my Countercultural mom blog!
This would be a good feast to have if you are studying any area in Eastern Europe.  We were served cabbage rolls in Romania and in the Czech Republic, in Germany and in Hungary.  Most Eastern European countries have their own version of the dish.
Stuffed cabbage rolls with purple cabbage, 5 grain bread and baked apple
Menu:
For our Eastern European feast I served stuffed cabbage rolls, baked apples, purple sauerkraut and five grain bread.
Baked apples:
Cut apples in half and remove seeds.  Lay apples skin side down in a casserole dish and put a dab of butter in the center of each apple.  Sprinkle apples with cinnamon-sugar.  Fill the dish half way full with water and bake at 350 for about 25 minutes.
Stuffed Cabbage Rolls
1 head of green cabbage
1 large onion, chopped
2 tbsp vegetable oil
1/2 cup uncooked brown rice
1 pound ground beef
1/2 tsp salt
1/4 tsp pepper
2 tbsp brown sugar
3 cups tomato juice
Remove about 10 or 12 large outer leaves and 6 small leaves of cabbage.  Cook the leaves in boiling water 5 to 8 minutes or until just tender.  Drain and set aside.
Saute onion in oil until crisp tender.  Add the brown rice and cook 3 to 5 minutes over medium heat, stirring constantly.  Cool rice mixture slightly.
Combine the rice mixture, the ground beef, salt and pepper.  Spoon about 1/4 cup mixture in the center of each large cabbage leaf; reserve the smaller leaves.  Fold left and right sides of large leaf over; roll up, beginning at the bottom.
Repeat with the rest of the large leaves.  You can cook this dish immediately, or chill it overnight in a sealed tupperware container, as I did.
When you are ready to cook the rolls, arrange the reserved small leaves in the bottom of a large Dutch oven or stockpot.  Spoon the brown sugar over the leaves.  Top with the cabbage rolls, seam side down.
Pour tomato juice over assembled layers; bring to a boil.  Cover, reduce heat, and simmer 2 hours or until rice is done.
Purple cabbage
Braised Red Cabbage
1 small onion, chopped
1 clove garlic, minced
1/2 teaspoon dried thyme
1/4 teaspoon caraway seeds
2 bay leaves
1/2 tsp grated lemon rind
1/2 tsp salt
1/4 tsp ground pepper
2 tbsp olive oil
1 1/2 qts. water
1 cup red wine vinegar
*1/4 cup salt
1 small head red cabbage, thinly sliced
2 tbsp red wine vinegar
1/4 cup chicken broth
Cook first 8 ingredients in hot oil in a large skillet over medium-high heat, stirring constantly, until onion is tender.
Combine water, 1 cup vinegar and 1/4 cup salt in a large Dutch oven.  bring to a boil.  *One-fourth cup of salt is correct for this dish.  Most of the salt is drained away after cooking.
Add cabbage to the boiling mixture and cook 10 seconds, stirring constantly.  Drain.
Add the cabbage, 2 tbsp vinegar, and chicken broth to onion mixture; bring to a boil.  Cover, reduce heat, and simmer 15 to 20 minutes or until cabbage is crisp-tender.  Discard bay leaves.
*My mother-in-law and I enjoyed making a kind of soup out of the leftovers by combining the stuffed cabbage rolls, the purple cabbage and the tomato juice.  Yummy!