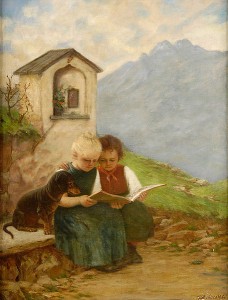 Ronald Davis' book The Gift of Dyslexia (read a short review of this book here) was very helpful for me in making the decision to have our son professionally tested, as the evaluation exercises gave me confidence that our struggles were not just all in my mind.  I also adapted some of the techniques I have used in working with my son from this book.  I love this book's perspective, too, as it helped me to appreciate the unusual abilities that often accompany dyslexia.  Through the knowledge gained here, I was able to help my son change his perspective about dyslexia: now he sees it as a gift and not a liability.
I also recommend Overcoming Dyslexia by Sally Shaywitz, which gave me more insight into my son and how better to work with him.
.
When my dyslexic son was still young I gleaned many ideas from Peggy Kaye's books, such as Games for Math and Games for Reading.  Sometimes when we got into a rut it was good to pull out one of these books and use a game to help teach the concept.  The photo above shows two of my boys playing Fast Track, one of their favorite games from Games for Math.
The Homeschool Legal Defense Association provides legal representation for homeschoolers.  It is advisable to have such representation if you are homeschooling a child with special needs.  They also provide many helps for parents who homeschool a special needs child.  Members have access to trained specialists who can encourage and advise.  Many resources have been made available to the public for free in the Homeschooling your Struggling Learner portion of the HSLDA website.
I found some helpful articles about teaching the dyslexic student at Susan Barton's website Bright Solutions for Dyslexia, Inc.
In addition to local homeschooling friends, it has been helpful to draw on the knowledge of others in similar situations.  I've enjoyed being part of the online yahoo group Heart of Reading.  This is a Christian group for homeschoolers of struggling students, specifically geared toward reading difficulties such as dyslexia, dysgraphia and auditory processing disorder.
We do standardized testing every year, even though it is not required by law in our state.  It is a good benchmark, to see how my children are progressing.  It is also a protection for us as we home school, as one more example that we are exercising due diligence as we educate our dyslexic son.  We use the Iowa Test of Basic Skills, which can be administered at home by a parent if you have a college degree.  I purchase them through BJU Press.  Students with learning disabilities such as dyslexia are eligible to receive accommodations when they take their standardized tests as long as you write out a declaration of which parts of the test were done with accommodation and submit it with your tests.  In a home school setting it is usually fairly easy to test your child in a room by himself.  Our child has most portions of the test read aloud to him, and most sections are not timed.  These two accommodations have made a world of difference in his scores.
MORE ABOUT DYSLEXIA: I have have posted several articles about dyslexia on this blog.  Look in the drop down menu under Dyslexia for posts about hands on spelling techniques, such as file folder spelling (pictured above), what to do if you suspect your child is dyslexic, and more.
You might also enjoy listening to my talk on The Homeschooler's Library, which details how I go about choosing books.
Our family created the educational audio website My Audio School to help children struggling with reading disorders.
The All About Spellingwebsite is a treasure trove of helpful articles relating to dyslexia.   Here are a few good ones:
Disclosure:  I am an All About Spelling affiliate and will receive a commission on any purchases that result from following the links to their site that I provided in this post or elsewhere on this blog.  I am the owner of My Audio School.