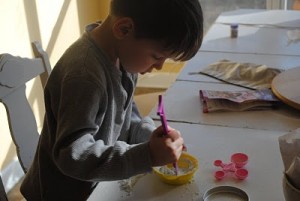 Last week my preschool-aged son stayed all night with his grandma.  She took him to one of their favorite places, Goodwill, and told him he could pick out a toy.  Faced with an array of Hot Wheels cars and Lincoln Logs, he was inexplicably drawn to one particular toy:  The Easy-Bake Oven.
The box was pink, with a girl on the front.  He casually asked Grandma whether she thought a boy might be able to use such a toy.  She assured him that his oldest brother likes to cook and bake, and that boys could use it, even though it was pink.  He decided to buy it, as long as she carried it to the checkout.
Once in the car, he breathed a sigh of relief, exclaiming that they got out of the store and no one even KNEW that Easy Bake Oven was for him.  Whew!
And then he spent a happy weekend baking cupcakes and cookies.  This kid LOVES sweets, so why wouldn't he love a toy oven?
He was nervous about what his brothers would think when he brought it home, but unwilling to part with it.  He needn't have worried.  When he came home, laden with a box of yummy cupcakes, everyone was instantly intrigued.  His 9 year old and 7 year old brothers love cupcakes just as much as he does, and they could hardly wait to start baking up their own treats.  They diligently finished their schoolwork early so they could get to the good stuff!
Incidentally, the refill mixes for the Easy Bake Oven are rather expensive.  I found a recipe online for converting a traditional cake mix.  It worked great for us:
3 tablespoons cake mix
1 tablespoon milk
I even used a mix that called for additional oil and eggs, but it worked out fine with just the milk.  Have the kids stir it up, spray the little pan with Pam, and you'll be eating cupcakes in no time!