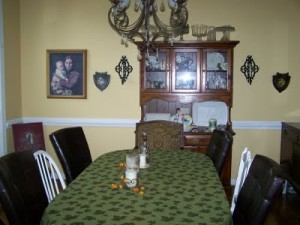 We celebrated our Medieval Feast last night! Usually our feasts only involve our family, but we did something on a slightly larger scale this time. Another family joined in, as well as my dad.
The children from both families met earlier this week and prepared a program to present during the feast. It was wonderfully entertaining! A squire was knighted, and some of the guests shared news about Chaucer and his Canterbury Tales, the Battle of Crecy, and other "current events". There was even a tournament involving archery, sword play and jousting.
To start the evening off, we set out some medieval games. Although chess and checkers were available, the young lords preferred our homemade version of the Viking game Hnefetafl. The boys didn't play for long, though. They were too enamored with their costumes, swords and shields to sit still playing games.
The children had the wonderful idea of using shields from the Dollar Tree to decorate the feasting hall. I used a strip of painters tape on the handle of each shield to attach them to the wall. It wasn't that strong, and a few of the shields did fall, but it was quick and easy and most of them stayed put.
In some cases it was easy to wrap the tape around the handle of the shield and a knob on the hutch or a hanging sconce, and this worked quite well. The painters tape was easily removed afterward with no marks. The shields were very lightweight and only cost $1 apiece. My boys will have fun playing with them now that our feast is over, and everyone loved our beautiful feasting hall!

I also took some battle axes that we had in our weapon bin and hung them, crossed, on a plate hanger that normally adorns our dining room wall.

My husband had a linen cloth with a knight on it, which he has been saving since he was a child. This was easily hung with more painters tape. I cut the strips to form a frame for the cloth, and we fancied it to be a medieval tapestry.

It is almost Halloween, so the Dollar Tree had some other decorations that were meant to be spooky but which I felt could double for this occasion. I bought one package of old, creepy bottle labels and applied one titled Ye Olde Spider Venom to a bottle of Barq's Root beer. Our Viking guest brought this with him to the feast. The boys thought someone should be sentenced to death-by-spider venom, but instead, we let the official cup bearer taste it for purity. It passed muster, so it was served.


When the cup bearer felt sick later that night (ostensibly from overindulging in Wild Boar), the King was quick to blame the spider venom. He immediately began searching for a replacement cup bearer in case the first one didn't pull through!
I also set some candles and a simple vining floral decoration on the head table as a centerpiece. The King sat in a very throne-like chair at the head of the table.


We used individual type-writer key letters to make the placecards. Part of the program was a brief discussion about Johann Gutenberg's wonderful "new" invention, the printing press, and a bit of bragging about how the King purchased a set of printed placecards just for this occasion.
I'll explain more about the menu in my next post, but for plates we purchased flat sandwich wraps to use as trenchers. Everyone got a knife and a spoon, and we assembled a collection of chunky mugs for our glassware.

To be authentic, we ate with our fingers and did not use napkins. I did put a dark-colored tablecloth on the table, and I confess to using it a few times to wipe my fingers.
I've got lots more to share about this wonderful feast which will undoubtedly be one of the highlights of our school year! Upcoming posts will include our recipes and how we pulled the costumes together.