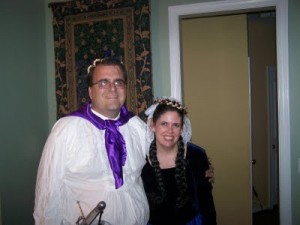 It took a bit of doing to pull the costumes for this feast together. But it really wasn't too hard. My boys already had a good bit of what they needed in their costume bin.

Our oldest son has a Scottish William Wallace Claymore sword from Vision Forum that he wanted to wear to the feast. I give him a lot of credit, as he really got into his part. He wore a kilt and spoke in a Scottish accent all night.
Two of the boys needed pants for their knight outfits. I was able to find a pair of footless, gray woolen leggings at Goodwill for one of them, and the other boy wore a pair of gray baseball pants. I cut off all the beltloops and the pocket on the back. It looked a bit rough, but his tunic hung down over the top, so it didn't matter. Their hoods and shirts were things we've collected over the years. If your boys don't have a knight costume, put one on your shopping list this Christmas. These costumes are worn constantly, not only when we are studying the Middle Ages.
Our youngest son dressed as a squire. We had a perfect costume for it but he lost it a day or two before the feast. You know he had to wear it every day for a week, leading up to the feast! So when the time came, we had to grab something on the fly for his squire robe. He wasn't in it long…at the beginning of the feast, he was knighted and did a quick costume change. We pretended that the feast and the jousting tournament were in celebration of his knighting.

I was able to find a dress for myself in the prom section at Goodwill…for $5 I found a perfect Queen dress. The Lord must have put it there just for me. I was so excited when I found it! A long wig that I braided finished the look. The veil I was wearing was just a lace curtain valance that I tied around my pony tail in the back to conceal my own hair.
My husband was the hardest to costume. At 6'4″ tall, it's hard enough to find clothes for him anyway! Goodwill to the rescue again. I bought a set of purple twin sized satin sheets that I adapted as a King costume. The flat sheet made a wonderful King's cape for him.

And I found a way to create some makeshift pantaloons by folding the fitted sheet in half lengthwise and wrapping it around his waist. I pinned it in the back like a skirt, with the elastic (fitted part) down near his knees. The loose fabric was then gathered at the knees and pinned again to make a kind of pantaloon. It wasn't ideal because it looked a little skirt-like (I did use extra pins to try and gather it in the middle to minimize this effect)…but it took just 5 minutes and he was a good sport about it. He wore shorts underneath (for comfort and modesty) and I think it fit the bill.
His sword was also from Vision Forum. They have many beautiful swords for sale. Each of our boys receives one as a special gift sometime during their 9th year, to commemorate the fact that he is half way grown.

Yet another use for my wig! I've worn it for Japanese Tea Party, 60s day (unbraided) and now Medieval Feast.
We could not find crowns, though! I went to several stores and no one had them. I'm so glad they didn't! One of the girls from the family who joined us figured out a way to create the crowns from scratch using beads and copper wire. I think they were beautiful, and her creativity was one of my favorite parts of the feast.