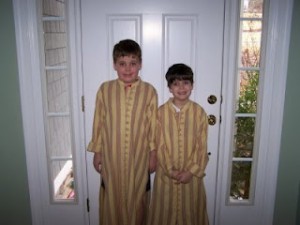 We are getting ready to celebrate our Passover meal tonight. We'll be finishing up our study of Ancient Israel in a few weeks, and I know tonight's meal will be one of the highlights of our study. We are going to a biblical museum which specializes in doing passover meals for Christian groups. The setting there is beautiful and very realistic to the time period.
I stopped by a bargain basement sale today and found these robes, which I thought would make excellent costumes for the feast! I can't believe I only paid $2 apiece for these robes!
If you are a new reader to this blog you might want to look at the decoupaged passover plates we made for our celebration.