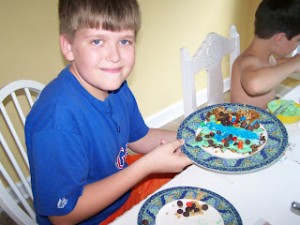 Today we made Cookie Dough Maps of Ancient Egypt. It was, simultaneously, both a fiasco and a success.
The fiasco: Apparently, we used a no-bake dough recipe. I didn't read carefully enough, and here is what happened as a result:

Just as the Nile River overflowed its banks every year, this molten mixture would not be contained by a mere jelly roll pan, and oozed all over the bottom of the oven. Oblivious until we smelled smoke, we enjoyed reading about Egypt from A Child's Geography: The Holy Land while the kids colored pictures in their History notebooks.


Once we realized our cookie dough maps weren't turning out as hoped, we quickly switched to plan B. I got out some refrigerated dough (kept on hand for cookie emergencies!) and baked those up instead. I pressed them into a pan, and cut it into four wedges after it cooled. The kids were able to refer to a copy of my Teacher's Map of Egypt, which shows the locations of the Nubian Desert, the Sinai Peninsula, the Red Sea, Nile River Delta, Pyramids at Giza, etc. Each child had a plate of M&Ms, chocolate chips, Hershey's kisses, sprinkles and bowls of blue and green frosting with which to re-create an edible map of Egypt. We even used the molten no-bake dough as sand.


Even 3 year old Cal enjoyed this activity tremendously, and showed great discipline not to eat his cookie until his map was finished.


This activity is a keeper. In spite of the mess, I enjoyed it lots more than the Salt Dough Maps we made last year. Besides being fun, no one begged to keep their maps for posterity's sake. Everyone was happy to eat the results of their hard work, and between the reading, looking at the map and careful placement of Hershey's kisses pyramids, blue frosting Nile, M&M mountains and molten sandy deserts, everyone learned a lot!

The No-Bake recipe for this activity is:
2 cups peanut butter
2 1/2 cups dry powdered milk
2 1/2 cups powdered sugar
one 16 ounce bottle of light corn syrup.
Mix together and form maps on waxed paper.
If you want a baked version, use any bar cookie recipe. We used Pillsbury refrigerated dough balls, pressed together into a cookie sheet, then cut into large squares.