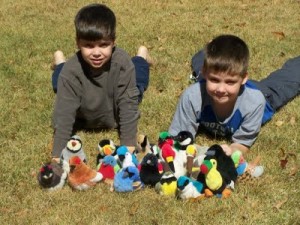 Here are our two birding boys, with some of their favorite plush birds. They use these birds to memorize field marks and bird calls.
I just have to share our exciting news! Our boys spent several months installing a Bird Garden in our side-yard. We were thrilled last spring when the project won first place in the Keep Our County Beautiful competition. That was quite an honor.
But we just heard that the county-wide organization submitted our project to the state level, and it won Second Place in the Keep Georgia Beautiful competition! We were shocked.
Thanks for letting me share our joy! You can read more about our Bird Garden project here. You can also find out more about how we got started with youth birding, including some of the techniques that Dawn (from Olive Plants blog) and I used to teach our boys, by reading this article about us on the Cornell Lab of Ornithology website.

Here are my boys and Dawn's boys at the Georgia Youth Birding Competition last spring.
Dawn has some excellent posts in her Birding 101 series, including Introduction to Birding, Know your Bird Parts, and Using a Field Guide.