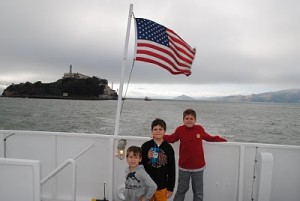 I love educational vacations!  I wish I knew a good word for them.  Veducations?  Vay-keducations?
Anyway, we're having one right now, and it feels so good to be able to hatch two birds from one egg.  (My bird loving kids don't like it when I say "kill two birds with one stone").  We are relaxing and rejuvenating, as well as doing school.  You gotta love it!
Right now we are in San Francisco.  Yesterday we went to Alcatraz, the famous inescapable prison on a large rock island in San Francisco Bay.  We loved walking through the old prison and listening to the audio tour about famous inmates, prison life, and escape attempts.
We discovered something else new yesterday:  the National Parks Junior Ranger program.  The kids were each given a booklet to fill out while they were at Alcatraz.  After answering all the questions, their booklets were stamped and they received a special Junior Ranger badge.  Everyone was motivated to listen and learn on our tour, and they all felt very proud of their badges.
I had heard of the Junior Ranger program before, but we had never tried it.  I guess it seemed to me like it would take too much time to fit in all that extra learning, LOL.  But it really didn't take that much extra time and it was very worthwhile  The kids were actively engaged learners, and their experience was enhanced by both the information gathering and the badges! Even our five year old was trying to learn all he could and answer every question in his booklet.
The entire area of Alcatraz island is also a bird rookery, and this is hatching season!  So we also got to see some new birds, most notably the Western Gull.  Our avid 10 year old birder thought he saw a Black Oystercatcher and was ecstatic….but excitement soon led to the teary eyed realization that it was just a Pigeon Guillemot (also a new bird for him, but apparently not as rare as the Oystercatcher, so it didn't hold the same cache for him).  His disappointment abated when he learned that the Pigeon Guillemot is not some cross-breed pigeon, but actually a member of the Puffin family.
It has been a lot of walking, and San Francisco has more hills than I dared imagine.  But so far this 7 months pregnant mama has been keeping up pretty well!
Today we plan to walk on the Golden Gate Bridge and to see the giant redwood trees at Muir Woods before heading to Yosemite National Park.  The boys are very excited about earning some new junior ranger badges along the way!  And I'm excited about another great "Veducation" Day!