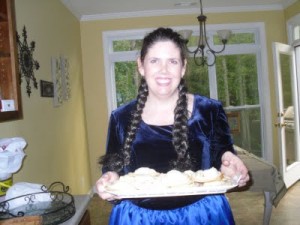 Menu:
Wassail
Selection of Cheeses
Bread
Potato and Leek Soup
Pheasant from the King's Forest (aka Roasted Chicken Legs)
Wild Boar (aka Ham)
apple tarts
gingerbread

Recipes:
For the wassail, we just used warmed apple cider. You could put some mulling spices in it if you want to.

Leek and Potato Soup
One bundle of leeks (about 1 cup diced)
One 16 oz. box of chicken broth
2 cups shredded hash brown potatoes or peeled, cubed potatoes
1/2 cup butter
one large onion, diced
1/2 cup flour
2 cups milk
salt and pepper to taste,
chives to garnish (optional)
Wash the leeks thoroughly. Cut off the green part of the leeks as well as the root end. Remove the outer layer. Dice the white part that remains. You are going to put it in a blender after it is cooked, so the leeks can just be rough chopped.
Boil the potatoes and leeks in the chicken broth until soft and tender. In a separate pan, melt the butter. Saute the onions in the butter until golden. Stir the flour into the onions and cook until bubbly, stirring constantly. Slowly add the milk to the flour and onion mixture, stirring to combine. Now add the onion mixture to the vegetables and broth, stirring well.
Pour contents of the pan into a blender and puree. You may need to work in batches. Season with salt and pepper to taste. Add additional broth if the soup seems too thick or starchy.
Variation: This is my go-to cream of vegetable soup recipe. You can substitute broccoli, cauliflower, or other vegetables for the potatoes and leeks. I love this recipe!
Apple tarts
This recipe was a bit of a flop…I tried to make little apple tarts by cutting pie crust into rounds with a biscuit cutter and making tiny, hand-held pies. There was just too much crust for the amount of filling that could fit on a little round. If you want to make tarts, I suggest using a flakier pastry, such as puff pastry. Alternatively, use your favorite apple pie recipe, making it one day ahead of time so that it has time to firm up. If you aren't using plates or forks, you do NOT want an overly juicy pie!
Roasted Chicken Legs
Brush chicken legs with Olive Oil. Sprinkle with salt and pepper. Roast on a baking pan in the oven at 400 F for 30 minutes. Before removing from the oven, broil for 2 minutes to brown the chicken legs. I found a wonderful roasted chicken leg recipe here.