Handiwork
Joyous Home is offering a free "Beginning Stitches" hand embroidery tutorial on their blog. It is a PDF with accompanying audio to help you follow the stitches. I was surprised to learn that girls used to learn these skills as young as 3 years old!  I don't know how to embroider, so I am filing this away for when my little girls gets old enough to give it a try.
Latin Classes
School is starting to gain momentum.  I really appreciate the availability of online classes, particularly for my older kids.  It is great for them to learn to be accountable to another adult, and it frees me up more for my little ones.  Our oldest son recently completed his fifth year with Latin in the Christian Trivium.  These courses have been such a blessing for us both!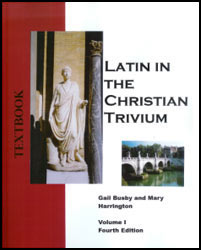 All the courses are accredited for high school credit by the University of California.  After completing Latin I-IV and AP Latin, he went on to take the AP course, and was recently very excited and pleased to learn he got a solid, respectable score on the AP exam.
I believe that Latin is very important foundationally.  My son did extremely well on the SAT after his years of Latin, and found the vocabulary section much easier than we expected.  He also sailed through his first year of Spanish last year, in large part due to his solid Latin background.  He has an incredibly solid foundation in grammar, as well.
LITCT is a Christian program, and I was happy that my son was regularly translating Scripture passages throughout his years in the course.  And best of all for me, everything is taught in an online classroom by wonderful teachers.  I didn't have to do a thing!  The teachers instruct the students in all the material, assign homework, quizzes, and tests, and do all grading.  It was a win-win for us.  At this time, the classes cost $195 per semester….a steal in my book for the quality of instruction and the peace of mind, knowing our bases were covered in this vital subject.
Government
This fall he will be taking Government online from ACH Study Groups.  I have heard excellent reviews of this course, which is taught from a Christian perspective.  I think it will be exciting to take Government during an election year.  We're looking forward to it!
Outdoor Challenge Hour
I used to teach according to the Charlotte Mason method when my oldest son was young.  For the past several years we have been following the Classical method, but I wanted my younger kids to experience some of the things we have missed about CM.  One of those things is Nature Study.  So for the younger boys' science this year we will be following the suggestions on the  Outdoor Challenge Hour blog.  Tomorrow should be our first day of Nature Study.  I can't wait to get started with it again!  We had so many fun and happy memories of nature study, and I am sad that we let that go for…well, for far too long.
Audio Books
As many of you know, our family runs the website My Audio School.  We just started back to school with our study of the Ancients, and some of the books on our listening list this month include: Peeps at Many Lands–Ancient Egypt by James Bakie; The Cat of Bubastes by G. A. Henty, and The Lost World by Sir Arthur Conan Doyle (high school son).