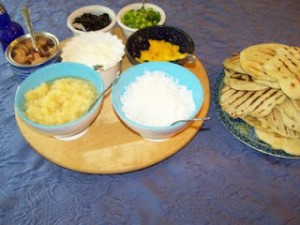 We studied Ancient India this week. Our study culminated with an Indian Feast. Here are the recipes we used.
Menu:
Basmati Rice
Tandoori Chicken
Chicken Curry
Indian Naan Bread
Green salad
Kulfi (Indian Ice Cream)
If you decide to prepare an Indian Feast, plan ahead. The ice cream needs at least 8 hours to freeze. No one thought the Tandoori chicken was anything to write home about, so I am not including the recipe here. If you are interested in serving that, you can find many recipes online. We thought the recipe I used was very bland.
Chicken Curry
Ingredients: (Double quantities for a larger crowd)
* 3 tablespoons olive oil
* 1 small onion, chopped
* 2 cloves garlic, minced
* 3 tablespoons curry powder
* 1 teaspoon ground cinnamon
* 1 teaspoon paprika
* 1 bay leaf
* 1/2 teaspoon grated fresh ginger root
* 1/2 teaspoon white sugar
* 1 can pineapple tidbits, drained
* 2 skinless, boneless chicken breast halves – cut into bite-size pieces
* 1 tablespoon tomato paste
* 1 cup plain yogurt
* 3/4 cup coconut milk
* 1/4 cup lemon juice
DIRECTIONS
1. Heat olive oil in a skillet over medium heat. Saute onion until lightly browned. Stir in garlic, curry powder, cinnamon, paprika, bay leaf, ginger, sugar and a pinch of salt. Continue stirring for 2 minutes. Add chicken pieces, pineapple tidbits, tomato paste, yogurt, and coconut milk. Bring to a boil, reduce heat, and simmer for 30 to 35 minutes.
2. Remove bay leaf, and stir in lemon juice. Simmer 5 more minutes. Add salt if necessary.
The curry was a bit hot. I did not add any cayenne pepper, which was recommended, and it was still spicy. The white rice helped, and so did serving it with some toppings.
Curry Toppings
It may not be traditional in India to serve curry with toppings. But that's how we do it! That's part of the fun! I set out several dishes on a lazy susan with ingredients to put on top of the curry. Everyone can personalize their own dish!


Suggested toppings include pineapple tidbits, sliced mango, dried cherries or diced dried apricots, coconut, nuts (many prefer peanuts, we use canned mixed nuts), and diced green onions.
Basmati rice is imported from India. I wanted to make Saffron rice, but at $15 a bottle, Saffron was too expensive. I made the Basmati rice in a steamer, and I didn't add anything to it. It tasted good, even without salt or butter!
Indian Naan Bread
1 (.25 oz.) package active dry yeast
1 cup warm water
1/4 cup white sugar
3 tbsp milk
1 egg, beaten
2 tsp salt
4 1/2 cups bread flour
2 tsp minced garlic (optional)
1/4 c. butter, melted
Directions:
1) In a large bowl, dissolve yeast in warm water. Let stand about 10 minutes until frothy. Stir in sugar, milk, egg, salt and enough flour to make a soft dough. Knead for 6 to 8 minutes on a lightly floured surface, or until smooth. Place dough in a well oiled bowl, cover with a damp cloth and set aside to rise. Let rise 1 hour, until the dough has doubled in volume.
2) Punch down dough and knead in garlic. Pinch off small handfuls of dough about the size of a golf ball. Roll into balls, and place on a tray. Cover with a towel and allow to rise until doubled in size, about 30 minutes.
3. During second rising, preheat grill to high heat (I used a grill pan on the stove).
4. At grill side, roll one ball of dough out into a thin circle. Lightly oil the grill. Place dough on the grill and cook for 2 to 3 minutes or until puffy and lightly browned. Brush uncooked side with butter and turn over. Brush cooked side with butter and cook until the other side is browned, another 2 to 4 minutes. Remove from grill and continue process until all the naan has been prepared.
Kulfi (Indian Ice Cream)

Mango and Cardamom Kulfi
4 slices white bread with crusts removed
1 (12 oz) can evaporated milk (light or fat free version is fine)
1 (14 oz) can sweetened condensed milk (light or fat free version is fine)
1 (16 oz) tub cool whip (light/fat free is fine)
1 tsp cardamom powder or 1 cup mango chunks
Method:
1) lightly warm the bread…I used a toaster at the #1 setting. The bread should NOT change color, but it will be easier to pulse into crumbs if it is a bit warm. Out the warmed bread in a food processor or blender and pulse until it turns to crumbs.
2) In the blender or a large mixing bowl, add the thawed cool whip, condensed milk, evaporated milk to the bread crumbs and mix well. Blend/mix until everything is well combined and you can see bubbles starting to form. If in doubt, mix a few more minutes.
3) I wanted to make two flavors of Kulfi (cardamom and mango) so I separated the mixture into two batches. Adjust spices as desired if you do not want two different kinds of ice cream. I poured about 1/3 of the mixture into a pyrex dish (you can use a tupperware dish, a jello mold, a baking dish…whatever). I sprinkled the top of that mixture with cardamom powder.
The other 2/3 of the mixture stayed in the blender, and I added 1 cup of mango chunks (purchased in the frozen section). Pulse until the mango is liquified. Pour the rest of the mixture into another pan.
Cal tasted the mixture before it was frozen. He didn't think it would be very good.
4) The ice cream should be frozen at least 8 hours before you eat it, or it can be made the day ahead of time.
This recipe can be adapted with different flavors. Some suggested grinding pistachios or almonds and adding those to the cardamom flavored ice cream. Experiment! All of my kids loved the Kulfi. Two preferred the Mango flavor, two preferred the Cardamom. I thought it tasted too much like sweetened condensed milk, so I didn't really like it that much.