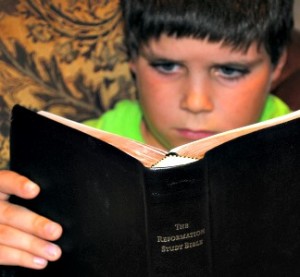 August is an exhilarating month for me.  I always look forward to the start up of our homeschool.  By the time August rolls around all the school books have been bought, lesson plans are prepared, and the schedule has been tweaked.  Nothing has happened—yet—to ruin my idyllic dreams that this will be the most productive school year ever.
Often by September 1st, the balloon has popped.  The kids forgot their math over the summer.  My perfectly color-coded schedule doesn't work for real people.  And the curriculum that was supposed to be the solution to all of last year's problems….isn't.  Every September I feel a wave of self doubt wash over me.  It doesn't matter that I have been home schooling for 12 years; I still question the soundness of my plans and my own adequacy as a mother and teacher.
Although I feel these doubts year in and year out, I don't entertain them anymore.  They were just signs that I was shooting for the wrong goals and fashioning idols out of clay.
I wanted to raise intelligent, articulate children who could succeed in life, and I was trusting they would get there if I just used the right methods.  I was focused on worldly success in this life, rather than striving for crowns in the life to come.
God's Word says that "…some trust in chariots, and some in horses, but we trust in the name of the Lord our God." (Psalm 20:7). 
Are we trusting in the Lord for the success of our homeschool, or are we trusting in our carefully fashioned plans?
For that matter, how do we define a successful homeschool? Who or what do we look to in our quest for that success?
A few years ago the Lord convicted me of my idolatry.  I believed that if I just taught the right stuff in the right amounts, my homeschool victory would be assured.  I had made education an idol in our family, and my curriculum was the object of my faith.
We all felt the pressure of mom's expectations, and I felt it most keenly of all.  My children's success had become a barometer of my own success.  Their scholarship offers, their fancy colleges, and their high powered jobs would all prove that I was an amazing homeschool mom.
The Lord, in His goodness, opened our eyes and showed us that we were pursuing the wrong goals.  Academic laurels and six figure incomes would mean nothing if our sons abandoned Christ.
I no longer put that pressure on myself—or on my children—to look successful in the eyes of the world.  I want them to do their best, and we still follow a thorough academic program.
But our focus has totally changed.
I now define success as raising godly children who love the Lord and who are prepared to serve Christ in whatever sphere He has for them.  That means they will need to be prepared for life in ways that go far beyond the curriculum. 
I believe that I am raising up leaders, so I do take their academics seriously.  But my highest priority is their spiritual development.  This includes growth in Christian character, their love for Christ, and their ability to function as loving, giving family members who will one day be able to serve their own families in their God-ordained roles.
Some things may need to change in our homeschools if we would raise up a generation who will stand for Christ.
We cannot take our cues from the world, whose system is set up in opposition to Him.  The "outcome-based education" our public schools subscribe to is not neutral toward Christ.
You and I could never have both the world and Christ—and neither can our children.
Jesus told us that, "If you were of the world, the world would love you as its own; but because you are not of the world, but I chose you out of the world, therefore the world hates you" (John 15:19 ESV).
We need to remember the hard truth that the world will hate our children if Christ is their first love.  High SAT scores may get them a foot in the door at some university, but it will not make them greater than their master.  In many cases we have accepted this station in life for ourselves; we need to also embrace it for our children, and seek first and foremost to fit them, not for this life, but for the life to come.
As we educate our children, we need to ask, "In what am I trusting for our homeschool's success?
Am I relying on my own strength, cleverness, schedule, or curriculum for our success this year?"  If  we are depending on anything other than Christ alone, let us repent of our idols (no matter how beneficial they might seem to us) and tear them down!
Dear sisters, the truth of the matter is that we are inadequate for the task we have been given. Woefully so!
No system or schedule can make up for what we lack, nor can it change our children's hearts. We must put our hope solely in Christ, for He, and He alone, can do what we would see done in our children's lives.
Let us fix our eyes on Christ and take our marching orders from Him, trusting Him to do what we and our curriculum cannot. 
This is our only hope, but it is a sure one.