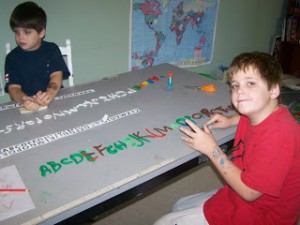 SPELLING: 
For the past 4 years we have been using All About Spelling , which is an Orton Gillingham method designed specifically for dyslexics. Most experts recommend teaching spelling to dyslexics using an Orton Gillingham method.  For more information and links to some curricula using OG methods, check out Susan Barton's website Bright Solutions for Dyslexia, Inc.
My dyslexic son is doing great with All About Spelling (AAS), and so is his non-dyslexic younger brother.  I have another post about phonics, but I want to be sure and mention here that SPELLING with an Orton Gilligham method was the key to unlocking my dyslexic son's ability to read.  He struggled mightily to sound out (decode) words.  Once we started BUILDING words with the spelling tiles a new world opened up for him.  He could not sound out the word "and", but he could use the letter tiles to BUILD the word "and".  Once it was built, sound by sound, he "knew" it and could read it from then on.  That is how we initially built his reading vocabulary, word by word, using spelling rules.  If you think about it, spelling is like phonics rules, applied.  As he became more proficient and his bank of recognized words grew, he became more proficient at sounding out words.
We took our time with levels 1 and 2, making sure to build a solid foundation.  Virtually all of Level 1 and much of Level 2 was review, and thus very easy for him.  We could have possibly skipped book 1 or done the books more quickly.  I wanted to make sure, however, that he had a good grasp on all the rules and how they apply, and I wanted him to take time to learn both the weekly words as well as the words for extra practice.
It was worthwhile starting at the beginning again to make sure we laid a solid foundation.
When he started learning to spell, much of it was confusing and he experienced weekly failure.  Starting slightly below his level was a real confidence boost for him, allowing him to experience spelling success for the first time.  He has shown good retention and understanding.  His reading level is much higher than his spelling level at this point, but he is making steady progress, and I couldn't be happier about that!
My children were already familiar with the phonograms, having previously learned them in another spelling program.   They really enjoy spelling new words with the colorful AAS  phonogram magnets, and I like the way the magnets are color coded to represent consonants, vowels, blends, etc.
As of this writing, my dyslexic son is in 7th grade.  We have continued to take our time with spelling, and are just now starting book 5 in this All About Spelling series.  Although it isn't his favorite subject, our son has found success using AAS and no longer struggles with feelings of failure and defeat over spelling.
We also use Spelling City every week now for games and extra practice.  I can customize a spelling list by typing in each child's words.  I choose activities in advance, allowing each of them to work independently by writing sentences or paragraphs using their own spelling words, playing games, and taking quizzes and tests.  I purchased the inexpensive premium membership which allows me to keep a grade book and see which words each child misses.  We used the free aspects of the program for the past two years and it is also wonderful, but I am definitely enjoying the added features that came with the membership, such as the grade book and the ability to customize an assignment list of activities for the week.
Most weeks I teach the new spelling concepts and spelling words, and the kids use Spelling City for review.  But sometimes I like to mix it up with hands on spelling activities.  I found this particularly helpful when my son was younger, as spelling comes a little bit easier to him now that he has built a stronger foundation.  Here are links explaining some of our favorites:
TOOLS: For spelling, I purchased a very large magnetic dry-erase board at my local Wal-Mart for less than $10.  It is big enough to hold our All About Spelling magnets, with room in the middle for writing words and dictation sentences with a dry erase marker.
Disclosure:  I am an All About Spelling affiliate and will receive a commission on any purchases that result from following the links to their site that I provided in this post or elsewhere on this blog.