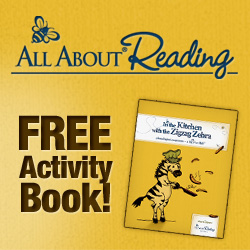 The people behind All About Spelling (AAS) have released a new program called All About Reading (AAR).  This program is geared specifically toward teaching reading to the dyslexic student.

Oh, how I wish it had been available a few years ago when we were struggling!  I am using AAR with one of my younger children, who also struggled with letters and reading.  It has been a great fit for him, and after using AAR for almost one full school year, he is now starting to read along with me in his children's Bible.  He has really grown in both ability and confidence, and I know we owe it to AAR.
There is also a pre-reading curriculum in this series just for preschoolers, to prepare them for reading and spelling.  I have not used the preschool books yet as they weren't available when my children were learning to read, but I will definitely use them with my baby daughters when they are ready.
EARLY READERS: My dyslexic son's reading level has always been considerably higher than his spelling ability, but I started him out with readers which were commensurate with his spelling level in the early years.  I think it was good reinforcement for him to read stories which used his spelling words, both as a visual reminder of how the words are spelled, and as a vocabulary builder (seeing his spelling words used in context).  It was also a confidence builder to read some things that were fairly simple for him and build up to harder books.  After struggling for so long to read, his confidence in himself was very low.  Once we started seeing phonics breakthroughs, I thought it was important to begin with books that would build confidence, allowing him to experience some reading pleasure for a change.
We didn't have the benefit of a reading program tailor made to fit with our spelling program, so when our son was younger I used  the Pathway Readers by Rod and Staff.   We love this series, and I've been using them for over 10 years in my homeschool with all my children!  My middle children love the books and I think they are a great fit for both our dyslexic son and our other children, too.
These graded readers worked great for my dyslexic son because they progress very gradually.  His reading ability grew naturally and easily as he moved from one reader to the next.  Each reader introduces slightly more words per page, slightly smaller type, and new vocabulary.  We have never used the workbooks that accompany this series.  I was able to look at them recently and there are several activities for each chapter which check comprehension, reinforce grammar topics and teach vocabulary.  That is not something I have felt was necessary for us, but the workbooks are very inexpensive and they could be a good supplement for grammar if you use this series.  After finishing the grade 3 Pathway reader, many children are ready to read a simple chapter book, such as something from the Childhood of Famous Americans series.  
Once my son was ready for some simple chapter books, I employed a technique where he would read one page and I would read one page.  That enabled him to get through the books much faster, and helped him feel a greater sense of accomplishment.  He enjoys when I read aloud, so whenever it was my turn it was a welcome break.  We always sat side by side so he could follow along as I read.
Practical Help
We purchase transparent reading overlays very inexpensively from Heads Up Now!  These overlays help my dyslexic son with his reading, making the black letters stand out more clearly from the white page.They offer overlays which show just one line of text, such as those in the picture above, as well as overlays showing two lines of text, a large rectangle of text or an entire page of text.  We have found that his reading speed and comfort improve with the use of these overlays.  Heads Up Now sells them quite cheaply, so I purchased several and let him experiment to find out what color works best for him.  We use the bookmark sized overlays which are perfect for keeping his place!
UPDATE: Our dyslexic son is now in 7th grade and he is able to read just about any book he wants to….but VERY slowly.  Two years ago he decided to read the first book in the Lord of the Rings series.  And he did it!  But it was laboriously slow.  He still reads physical books, because it is an important skill to master, but most of his schoolwork is done using audio books, since his slow reading speed holds him back from accomplishing all that he is capable of.  As he has matured and grown in his reading ability, we have seen that he is capable of reading most things, and the primary struggle he has now is speed.  Reading physical books is a skill to practice, for the sake of practice, but he uses audio books for history, literature, and science since his slow reading speed would hinder him from all that he needs to learn in these subject areas.  Our family created the website My Audio School for the purpose of  providing him and other struggling readers with easy access to educational audio.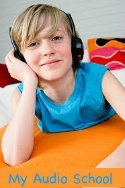 Disclosure:  I am an All About Spelling affiliate and will receive a commission on any purchases that result from following the links to their site that I provided in this post or elsewhere on this blog.  I am the owner of My Audio School.