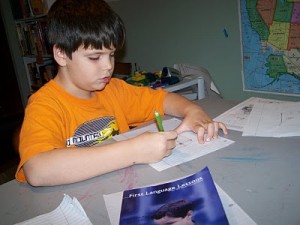 GRAMMAR: We use the grammar series from Peace Hill Press, written by Susan Wise Bauer and her mother Jessie Wise.  When my dyslexic son was in 4th grade we did the book First Language Lessons for the Well Trained Mind (aimed at 1st and 2nd graders).  This book is meant to take two years but we were easily able to do it in one year since he was older.
Most of the lessons are oral, making it an ideal first grammar book for the dyslexic child.  We skipped most of the narration, copywork and dictation sections since we were already doing that work in Writing with Ease.  We could have done the copywork and dictation from this grammar book and skipped WWE, but I much prefer the copywork and narration selections in WWE.  They aren't as juvenile as the ones in First Language Lessons.
I am a firm believer that you shouldn't start grammar lessons with a child until he is capable of reading, writing, and some spelling.  Otherwise, it is a waste of time and energy.  Waiting until my son was in 4th grade really helped him to have a firm foundation in those other more basic skills, and at that point he was capable of adding grammar.
GRAMMAR SUPPLEMENT: My son memorizes audio material easily.  Although this is not a necessity, he has really enjoyed the classic grammar songs on Schoolhouse Rock.  This has been a worthwhile supplement for grammar.  The 30th anniversary edition is available for sale.  You can also watch some of the videos on You Tube for free.  The lyrics for all songs can be found here. 
GRAMMAR (UPDATE–February 2014): For 8th grade my dyslexic son began a grammar and writing class at a local co-op. The teacher is using Analytical Grammar for their grammar text and he is sailing through with no problems. In fact, he is getting an A in the class and finds the grammar "easy". There was a time when I didn't think we could ever get to where we are now, but those years of hard work are truly paying off and many of the classes that used to be so laborious are now very straightforward for him, thanks to a solid foundation.
LATIN:  (UPDATE–February 2014):  When our dyslexic son began 7th grade I finally felt he was ready to start Latin, using the series Latin for Children.  Until then, I didn't think his command of the English language was strong enough to justify adding Latin, but he really surprised me and has done fantastic with it.  This curriculum has a DVD with chants, and he loves those as his memory of auditory material is fantastic.  The Latin grammar is helping him grow deeper in his understanding of English grammar, and I think it is foundational preparation for being able to take a modern language when he starts high school.  His younger brother was in 5th grade that same year, and he also took this same Latin course.  It was very appropriate for them both.
This school year (2013/2014) the boys are in 8th and 6th grade, respectively.  I switched them to the online classes for Latin in the Christian Trivium.  My oldest son took 5 years of Latin through them (Latin 1 through AP Latin) and their program is fantastic. They have both done wonderful with the program, and after the first semester they are both getting an A–even our dyslexic student! And it is his favorite class!! I am amazed!