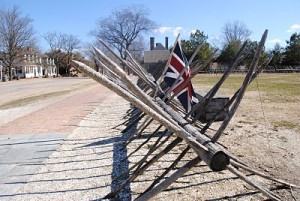 We just returned from a wonderfully educational week at Colonial Williamsburg, Jamestown and Yorktown.  This was one of the best field trips we've ever taken, and I hope you'll consider going if it is ever within the realm of possibility.  It was well worth the 10+ hour drive, and added a great deal to our studies this year.
 In the stocks
Colonial Williamsburg holds their Homeschool Days twice a year, in spring and fall.  Jamestown and Yorktown cooperated with them by holding their homeschool days at the same time.  This meant we could get access to special programming for homeschoolers, as well as heavily discounted admission, at all three places.
 Looking at weapons in the governor's palace
I've heard there is more to do at CW in the fall, but that the crowds during that time are a force to be reckoned with.  Granted, there was a bit less going on during spring homeschool days, and the weather was pretty cold.  But the crowds were low, we easily got in to everything we wanted to do, and the rates on condos simply could not be beat.  I shared a 4 bedroom condo (designed to sleep 12) with two other homeschooling friends and our 9 children, and we were able to split the cost of $275 total for 5 nights between the three of us.  Eating breakfast and dinner at the condo and packing lunches kept food costs economical, too.
There was so much to see and do that I'll publish separate posts about each location.  I want to make sure you get all the links and information you need, should you decide to take this trip yourself.  This post will cover Williamsburg, the next one will be Jamestown, then Yorktown, and finally Chincoteague Island, VA, home of the wild ponies and "Misty" fame.
 The ironworker making hinges
Currently, this link for homeschool days at CW only has information about the spring program, which is already over.  They should update this link with information for future dates, however, so you may want to bookmark it.
We spent two days at Colonial Williamsburg.  It would have been wonderful to have a third day, but we were able to do much of what we wanted to, especially since the crowds were light.  Spring homeschool days at CW are focused on the trades, whereas the fall homeschool days are more about politics and government.
Visiting the shops was a highlight (we especially liked the printer, the silversmith, the wig maker, and the gunsmith).  The children had lots of questions to ask the interpreters, and they learned so much about a variety of trades.
 Inking the printing press
The younger boys had the opportunity to drill with a soldier, learning how to load and hold a musket, stand in formation, and fire.  Our oldest enjoyed listening to a special Q and A session with General Washington.
 Learning to drill like a real soldier
Sitting in the courtroom and observing some colonial trials taught us a lot about the laws at that time, and was a highlight for everyone.
Holding a real musket at the gunsmith's shop
The boys loved the baker, too, especially their pretzel rolls and gingerbread.  They also sold a refillable mug for $11, good for unlimited refills for one calendar year.  We bought one mug early on the first day, and got our money's worth keeping it full of hot chocolate, cider, coffee and tea each day we were there.  Usually our kids drink water whenever we go out, so this was definitely a highlight for them, even though we all had to share one mug…the bottomless hot chocolate will ne'er be forgotten.
One afternoon we stopped by The Cheese Shop for bread and some fresh cheese.  Everyone had recommended this place and it did not disappoint.  We managed to get a bag of bread ends, which we were told we had to try.  At just $1 per bag, there were plenty of french bread ends for the 5 of us to snack on.
In the spinning and weaving shop
There were a few walking tours available for homeschoolers, but you had to sign up in advance for these.  By the time we registered, two weeks before homeschool days, the extra tours were all booked.  There would have also been an extra $5 per person fee for these tours.  In this regard, Jamestown and Yorktown were both more homeschool friendly, with plenty of space on their walking tours as well as excellent hands-on, grade-appropriate classroom experiences at both places, all included in the cost of admission.
 Learning how to make chocolate at the Governor's Palace kitchen
The tickets for Colonial Williamsburg homeschool days cost $8 per person for a 2 day pass or $11 per person for a 5 day pass.  Children 5 and under were admitted free.  This was a huge savings over their regular price: a two-day winter pass regularly sells for $38 for adults and $19 for youth.  It was also very enjoyable to meet other homeschoolers from around the country while riding on the bus and participating in the programs.
We are currently studying colonial times in our homeschool.  The timing of this trip couldn't have been better for us.  The boys had read enough that they could really appreciate what we were seeing and doing.  Now that we are home, they are making lots of connections in our current readings.  For example, we just read D'aulaire's book about Benjamin Franklin and the younger boys all remembered seeing the printing press, talking to the printer, and touching the type.  When we read about Franklin's printing career, they noticed things in the illustrations which they had seen in the printer's shop.
We've been home for a week now and the boys are still dressing up and playing Revolutionary War!