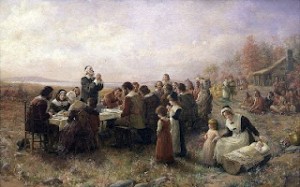 We love Thanksgiving! I take the opportunity every year to help my children gain an appreciation for our nation, which was founded by Christians seeking freedom from religious persecution. Here are some of the resources we are using in our family.
Of Plymouth Plantation by William Bradford
Every year we read an excerpt from this book, William Bradford's personal journal, before partaking of our Thanksgiving meal. This inspirational book traces the pilgrim's journies, first to Holland as they sought freedom from religious persecution, and then on to America, when they felt it necessary to leave their homes in Holland behind in order to protect their children from ungodly cultural influences. This book is a testimony to multi-generational faithfulness, one which I feel it would profit every family to read.
Homes in the Wilderness is simplified for children, but follows along the same lines. This book contains excerpts from William Bradford's journal along with other pilgrim journal excerpts.
We have also used the Thanksgiving Primer, compiled by staff at Plymouth Plantation and full of information for those desiring to re-create the first 17th century Thanksgiving.
Christian Liberty Press has some excellent readers for this season. Stories of the Pilgrims is at a 3rd or 4th grade reading level.
Following are several picture books I read annually with my children. These books all use photographs taken at living history museums such as Plymouth Plantation, giving a realistic view into what life was like for the pilgrims.
Picture Books

Samuel Eaton's Day by Kate Waters

Sarah Morton's Day by Kate Waters

Giving Thanks: The 1621 Harvest Feast


Tapenum's Day: A Wampanoag Indian Boy in Pilgrim Times

Pilgrim's of Plymouth


On the Mayflower by Kate Waters

The Animated Hero Classics series is inspiring for all children. This video tells more about William Bradford, governor of Plymouth Plantation.

Three Young Pilgrims is an excellent book for children who love lots of detail. Cheryl Harness is known for her beautiful picture books, each one jam packed with lots of information. This lovely book is no exception!
I have not read this next suggestion, but it is on some of my favorite book-lists. This entire biographical fiction series gets high marks for readers ages 8 to 12, and this looks like it could be a good choice for girls in this age group. Almost Home chronicles the life of Mary Chilton, one of the 102 Mayflower passengers.
We have read Peter and the Pilgrims, and my children all enjoyed it. It is exciting and suspenseful, and tells the story of why the pilgrims decided to leave England in the first place. We have many books by Louise Vernon and all of them are excellent.


The Story of Thanksgiving is a board book which introduces preschoolers to this special holiday.
The Landmarks and Libery CD series, produced by Vision Forum, is a series of fascinating lectures, recorded on location at various important historical landmarks, such as Plymouth Plantation and Jamestown. This series is informative and inspiring for older children and adults alike who want to gain a true understanding of the Christian roots of our nation. Secular historians are "re-writing" history, seeking to hide God's hand at work in our nation. This series gives glory where it is due, to God alone. Click on this CBD link to hear an excerpt from one of the lectures.
And finally, Vision Forum has several print offerings for adults and older students during this Thanksgiving season. Last year I bought To Have and To Hold, but didn't have time to read it. I'm hoping to get to it this year. It sounds wonderful. Here is a partial description from their website:
To Have and to Hold brings to life the exciting beginnings of America, weaving a story of adventure and intrigue with providence and perseverance in colonial Jamestown, while outlining the trials endured by our forefathers as they built this country. Read about swashbucklers, savages, and noblemen as fictional characters mingle with the real Jamestown leaders and colonists. Seen through the eyes of Ralph Percy, a valiant warrior protecting and cherishing his wife, his duty, and the honor of God's holy law, this story will leave you with an appreciation for the sacrifice of those who have gone before, as well as a better understanding of the history of our nation.
There is also a Teacher's Guide available for this book if you wanted to use it for school.
Check out Vision Forum for other interesting, historically based Thanksgiving resources, such as their historical music CD's, On the Edge of a Vast Continent and Jamestown Jubilee, their Beautiful Girlhood book and doll collection, and their historical costumes for girls and boys.
Philippians 4:8