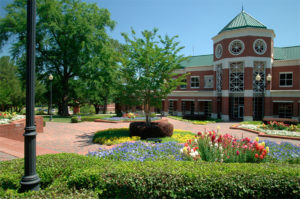 Our six week epic road trip began with a journey to Belhaven University in Jackson, MS for our oldest son's college graduation. We were in Jackson from May 11-14 and the time was filled with an honor society induction, baccalaureate, graduation, and moving our son and his wife out of their apartment as they headed to another state for new jobs and their post-college life.  We did have time to enjoy some of our (and their) favorite restaurants, as well as a trip to the Mississippi Children's Museum.
We always have to make sure to stop at San Marco's in Meridian, Mississippi for shrimp nachos, and Bop's Frozen Custard in Jackson for a brownie sundae or a Snappy Turtle. Priorities, right? We also celebrated the big graduation at a couple of really nice places: Shapley's steakhouse for dinner after baccalaureate, and brunch at Amerigo Italian–wow, that was some yummy food.
My girls had a great time at the Mississippi Children's Museum.   We try to spend a few hours there every time we are in Jackson, as it is really a highlight for our girls. They love spelling their names on the giant scrabble board, climbing through the digestion themed play structure, fishing water play, making spin art, the music room, and dressing up in costumes and putting on a show. This museum is kind of pricey, but they sure do love it.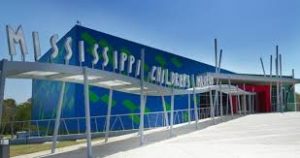 We usually stay in a hotel when we are in Jackson, but we have a big family and we planned to spend a few days in Jackson. It seemed easiest to rent a house this time, and I found a great place on VRBO. It was really relaxing to be in a home, and it gave us so much more flexibility. We had one child graduating and another trying to fit in a college visit and a variety of formal celebrations and ceremonies that not everyone planned to attend (read: there were too many quiet, structured events for 2 busy little girls). Staying in a home allowed us to stretch out, and if some of us had to be gone, others could be at the house playing games or watching a DVD, playing in the backyard, etc. It was really ideal.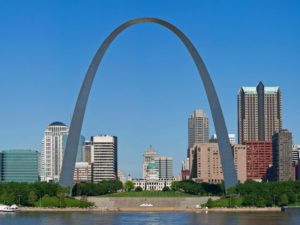 After graduation our trip began in earnest. Seven of us piled into our Toyota Sienna, which seemed WAY too small for such a trip. Everyone had luggage at their feet and behind their head and on their lap. It was kinda stressful, to be honest. We put the pedal to the metal and headed to St. Louis, Missouri, stopping only to purchase a DVD player for the car. It had become clear by day 3 that we were gonna need one if we hoped to spend another 6 weeks on the road. We slept at a Drury Inn that night, which was really nice. We had never stayed at one before. They had free popcorn and sodas in the lobby, and serve a free dinner and breakfast every day. They had some suites, so we only had to book one room, which was also great. The food was kind of meh, but it was FREE. And it was on site, which was awesome. No one wanted to get back in the car that night to find dinner.
The next morning was hot, and very bright. There was some construction going on so we had to park a few blocks away from the arch. The parking garage was right by Busch Stadium, home of the St. Louis Cardinals. I have many fond memories of attending Cardinals games there as a girl, so it was nostalgic for me. My dad was a big Cards fan. I am glad I did some research BEFORE going to the arch. I had not realized it was such. a. big. deal. There are days that it is sold out, y'all. Admissions are timed. You have to get tickets in advance. Thankfully, it was under control and we had timed it perfectly so we could go up in the arch, watch the movie (which I recommend highly–it was really informative and made this trip actually educational as well as fun), and visit the gift shop. There is supposed to be a great museum, too, but due to the construction it had been moved off site, a few blocks away, so we skipped it due to time constraints. We had only budgeted a half day for the arch before heading to Galesburg, Illinois, my home town.