We rolled into Galesburg, Illinois (my hometown) in time for chili dogs at Coney Island. I remember going to this local establishment as a child, and it was fun to talk to the owners. Our family had not been back to Galesburg for 6 years but they remembered our boys, and even asked about my oldest son who was not with us on this trip. I was amazed. This place is so nostalgic for me. The decor is amazing, and it looks like nothing has changed since it opened in  1921. The kids had fun drinking soda out of glass bottles, and the girls were allowed to keep several bottle caps. The chili dog with onions is my favorite, and it instantly brought me back to my childhood. After Coney Island we headed to another one of my childhood haunts: Kastle Kreme, home of the Krunch Kone. The kids thought it was funny that all of those words SHOULD start with a C, but they had modified everything to start with a K…but why? Some questions will never be answered.
My kids remembered Krunch Kones from our previous trip in 2011, and they did not disappoint. I recommend the chocolate, it is amazing.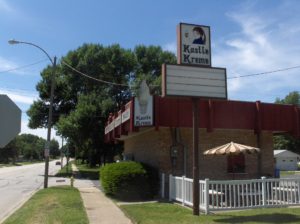 I have never found a cone (or is it Kone?) like this one anywhere else. It is like a mixture of peanuts and jimmies…the flavor combination is amazing. I don't have a whole lot to say about Galesburg that isn't about food…this ended up being one of our favorite stops of the whole trip, and the amazing food was a big part of it. What can I say…our family are all foodies. As long as liking coney dogs and soft serve ice cream cones can qualify one as a foodie. I'm not sure if it does. But hey, this stuff is incredible. Trust me.
We also took time to visit Linwood cemetery (twice, actually) and place flowers on my dad's grave. Our 2011 trip was for his funeral and I hadn't been back since. It was a bittersweet time. I went into HyVee grocery store to pick up flowers to put on his grave. When I walked in, I immediately saw their coffee shop, where he used to go a few times a week to chew the fat with friends. I had completely forgotten about that, and burst into tears. I wasn't prepared for it.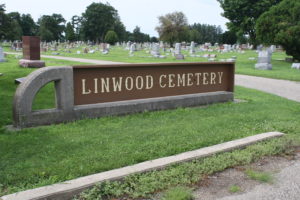 We met my aunt at the cemetery and had time to talk about dad and pray as a family at his grave, thanking the Lord for giving us such a wonderful man in our life. We know we will see him again one day! We didn't have enough time to locate my grandma and grandpa's graves, so we went back another day and did that, too. I couldn't remember the exact location but I was so thankful that one of the kids found them under a grove of trees after all of us had been searching for a long time.
Dad always loved to go to Uncle Billy's Bakery also, and their thumbprint cookies are one of my favorite things ever, so I stopped in and bought a few so everyone could try them. The thumbprints got a big thumbs up from all the big kids, tho the little ones didn't like the nuts they were rolled in. More for me, lol. Some of these food memories were really nostalgic for me. We had Uncle Billy's thumbprint cookies after my grandma's funeral. I went to school across the street from Kastle Kreme and we used to bring coins to school so we could stop there on the way home sometimes. Another absolutely favorite of mine is the Landmark Cafe and Creperie on Seminary Street. I spent so much time there as a teenager. Their very very very best thing is the ice cream crepe. We literally ate all the top rated food network establishments we could find on this trip and at the end of the day everyone agreed that the Black Forest Ice Cream Crepe at the Landmark was THE BEST food we ate. Anywhere. They also have a spinach bisque soup that I crave, and it is so good with whole wheat crackers. I stopped drinking flavored coffee years ago, and so did my husband, but we gladly ordered the flavor of the day for old time's sake just like we used to do back in the day.
There was truly too much good food to cram in to just a couple brief days, but we did our best. We left the kids at the hotel one night and celebrated our anniversary (a bit early) at one of our favorite old haunts, The Packinghouse, also in downtown Galesburg.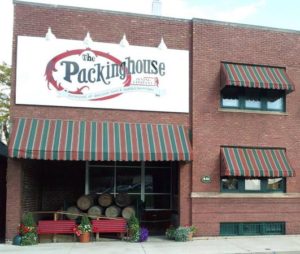 The salad bar, homemade cinnamon rolls, french onion soup, and steak were all just as amazing as they had been 25 years ago. That place is so yumulous (yummy and fabulous). The atmosphere is awesome, too, as it is in an old meat packing plant (thus the name).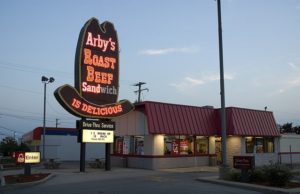 We didn't eat at Arby's (as if) but it was fun to see that the old sign was still there. Some things never change. We drove by the mall and that was pretty sad. I remember spending tons of time there playing Ms. Pac Man at Aladdin's Castle and listening to 45s at the music shop. Now it is a ghost town and slated to be demolished from what I hear. I saw a creepy video on Facebook recently, in which someone wandered through the mall. There were only two stores still open (a Bergner's that is about to close and a GNC–so weird). The rest is all dark and encased behind bars, with occasional buckets scattered throughout to catch dripping rain. Really sad. We stayed at a hotel near the edge of town and the parking lot backed onto a corn field. I love being back in Illinois and seeing all the red barns and the rolling corn fields. I didn't grow up on a farm but that ag culture was part of life there, and intertwined with the landscape. I miss that.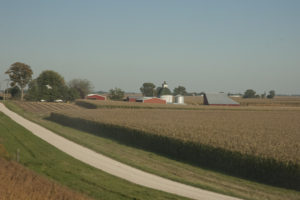 Anyway, when we weren't busy eating we took time to visit Knox College. I have a son named Knox, so we wanted to get some college swag from the bookstore. The store on campus had good sales on Knox gear, so we came away happy.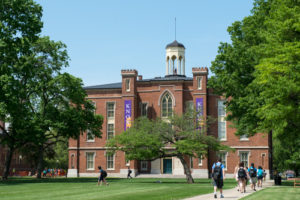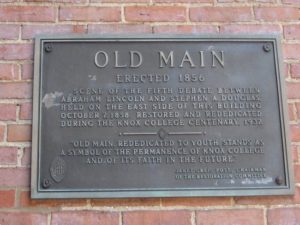 Also, Knox College was the site of the October 7, 1858 Lincoln Douglas debate. My older sons have been in the Classical Conversations Challenge Program, where they have gained experience in the Lincoln-Douglas debate style, and it is neat that my hometown was the site of such a historic event. It was fun to visit Knox College and learn a bit more about the debate. We also did a driving tour and saw where I used to live and the schools I went to. Everything looked so much smaller than I remember. When I was home in 2011 for dad's funeral my sister and I went to visit our old home. The woman who bought the house from our parents over 20 years ago was out in the yard and we stopped to speak to her. She invited us in to look around and literally nothing had changed. Things our dad had built were still there (the garage, the playhouse, the deck, the kitchen remodel) and even the pink bathroom remained untouched. It was really amazing to walk through our childhood home and relive those memories.
I wish we would have had time to get on the restored old train car. Also, I had planned to visit Carl Sandburg's Birth Place but it was closed while we were there. I have read some of his poetry and stories to my kids over the years. The Wedding Procession of the Rag Doll and the Broom Handle and Who Was In It is a favorite. And I would have loved to show them the inside of the old restored Orpheum theater. I have happy memories of going there as a kid, and of watching the movie West Side Story there with my dad when I was celebrating a birthday in my 30s.
I sure do love my home town.