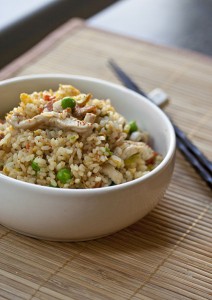 I made Chinese fried rice tonight for our International Festival. This dish is so easy and so yummy that I make it frequently for lunch or dinner. It is a great way to use up leftover rice.
Ingredients:
vegetable oil
1 large onion, diced
two or three cloves of garlic, minced
Cooked White rice (I start with 3 cups uncooked rice to make a large batch)
Frozen peas and carrots (or other vegetable, according to taste)
Soy sauce
3 or 4 eggs
Cooked chicken (or other meat, according to taste)
Prepare your ingredients first. Pour some soy sauce onto the meat and let it marinate while you get everything else ready. Dice the onion. Stir the eggs with a fork to break up the yolks. Cook the rice if you have not done so already.
Pour a couple of tablespoons of vegetable oil into the bottom of a deep, heavy-bottomed skillet or wok. Add the diced onion. When the onion begins to brown, add the garlic. Cook for one minute and add the frozen peas and carrots. Fry until heated through.
If you are working with large quantities, transfer the vegetables to a separate bowl before adding the meat to the skillet. Add more oil if necessary and fry the meat until heated through. Transfer the meat to the bowl with the vegetables. Add 2 or 3 more tablespoons of oil and allow it to heat up. Add the cooked rice. It is important to have a big enough skillet (or to transfer cooked ingredients if you don't) so that the rice fries instead of steams.
Be careful! I make fried rice all the time, but last night I let the oil get too hot before adding the rice. Oil was spattering and popping everywhere and some landed on the burner and caught on fire! Thankfully, I remembered that you put small oil out fires with a towel, NOT with water.
Fry the rice for a couple of minutes. Push it to the sides with a spatula and add the egg. Allow the egg to scramble and mix it throughout the rice. Add the vegetables and meat back to the rice pan, stirring well. Add soy sauce to taste.
If you need to make this for a crowd, it can be done the night before and then warmed up the next day in a crock pot.
You can also use raw vegetables or raw meat, but you need to adjust the cooking time.