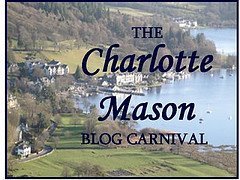 For the past couple of months I've been participating in a Charlotte Mason blog carnival. It has truly been a joy to read about what others are doing for art, music appreciation, poetry, nature study and more.
I found out about Charlotte Mason when I was just beginning my homeschool journey, and her philosophies continue to shape much of what we are doing now, almost 10 years later. She was an advocate of using Living Books to teach subjects like history, literature and science, and her views have forever changed how I choose our reading material.
If you are looking for lots of fresh insight and encouragement, check out this latest edition of the Charlotte Mason blog carnival, hosted this week by Harmony Art Mom. While you're there, I encourage you to browse Barb's site, as she has a whole host of information about including the fine arts in your homeschool. Harmony Art Mom is one of my favorite sites to browse!
To find out more about contributing a post to this twice-monthly carnival, click here.