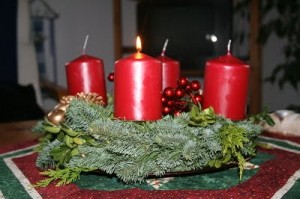 Advent is celebrated on the four Sundays before Christmas, with the fifth candle being lit on Christmas Day. Each week is an opportunity to focus on a different aspect of Christ's birth, with appropriate scriptures and songs. Here is one suggestion for family devotions with an Advent wreath.
First Sunday of Advent
On the first Sunday of Advent, which is celebrated 4 Sundays before Christmas, the first purple candle is lit. This candle is traditionally called the candle of prophecy, when we remember the many prophecies that were told about Jesus before his birth.


Isaiah 9 is a good passage to read when lighting this candle.
"The people walking in darkness
have seen a great light;
on those living in the land of the shadow of death
a light has dawned…"
…For to us a child is born,
to us a son is given,
and the government will be on his shoulders.
And he will be called
Wonderful Counselor, Mighty God,
Everlasting Father, Prince of Peace.
Of the increase of his government and peace
there will be no end.
He will reign on David's throne
and over his kingdom,
establishing and upholding it
with justice and righteousness
from that time on and forever.
The zeal of the LORD Almighty will accomplish this."
"O Come, O Come, Immanuel" and "Come, Thou Long Expected Jesus" are good songs to sing the first Sunday of Advent. When teaching songs to our young children we take a few moments to recite the words, and then to talk about what they mean. We often sing the same song twice, once at the beginning of our devotions and again afterward. These song remind us of God's people who waited for their Messiah to come, and of the hope we have as we wait for His return.
If you find you don't have the words to these carols, or that you don't know the tunes, check out Cyber Hymnal. You can search from over 7,000 hymn titles to find both lyrics and free midi files with the tune of each song.
Second Sunday in Advent

On the second Sunday in Advent, two candles are lit. The second purple candle is traditionally called the Bethlehem candle. "But you, Bethlehem Ephrathah, though you are small among the clans of Judah, out of you will come for me one who will be ruler over Israel, whose origins are from of old, from ancient times." Micah 5:2
Luke 2: 1-7, "In those days Caesar Augustus issued a decree that a census should be taken of the entire Roman world. (This was the first census that took place while Quirinius was governor of Syria.) And everyone went to his own town to register.
So Joseph also went up from the town of Nazareth in Galilee to Judea, to Bethlehem the town of David, because he belonged to the house and line of David. He went there to register with Mary, who was pledged to be married to him and was expecting a child. While they were there, the time came for the baby to be born, and she gave birth to her firstborn, a son. She wrapped him in cloths and placed him in a manger, because there was no room for them in the inn."
"O Little Town of Bethlehem" or "Once in Royal David's City" are good songs for this night.
Third Sunday in Advent

The third candle to be lit is the pink or rose colored candle. The third week we think about the Shepherds who were out in the fields at night when suddenly an angel of the Lord appeared to them and they were afraid. "But the angel said to them, 'Do not be afraid; for see—I am bringing you good news of great joy for all the people: to you is born this day in the city of David a Savior, who is the Messiah, the Lord.'" (Luke 2) The First Noel and Angels from the Realms of Glory would be appropriate songs for this week.
Fourth Sunday in Advent


The fourth candle is lit the Sunday before Christmas. This candle is called the Angels candle. As we light it, we talk about the hope of God's people which was fulfilled when His Son came to earth as a baby, and about how our hope will be fulfilled again when He returns in glory. "Angels We have Heard on High" or "Hark the Herald Angels Sing" would both be good songs to sing when you light this candle.
Christmas Day
On Christmas Day the final candle is lit. The large white candle in the center of the wreath is called the Christ candle because it is lit on Christmas day. When we light this candle we read verses about how Jesus is the light of the world.
We read in John 1: 1-5,
"In the beginning was the Word, and the Word was with God, and the Word was God. He was with God in the beginning. Through him all things were made; without him nothing was made that has been made. In him was life, and that life was the light of men. The light shines in the darkness, but the darkness has not understood it."